Whether you like it or not, the post-tour blues are extremely real. The highs of the lifestyle are very high and the lows feel like absolute rock bottom. When you come home, it hits you like a ton of bricks.
I read an article a long time ago about an 80's rock band that did most of their drug use when they got home from tour. They were used to 10k+ people screaming for them every night and couldn't cope with the reality of it suddenly stopping. So look, I'm not the master. But I've come up with a plan to make the transition from Rock n Roll tour manager to full-time dad and husband a little less horrendous.
Story Time…
Before I was aware of how affected I was with the culture shock of tour life to home life, I went about it all wrong. I was unconsciously setting myself up for failure. After speaking with my wife about this article, we started to talk about how different everything was when I was trying to figure it out. I knew the blues were coming and I'd start to get scared to go home. The lifestyle change was so drastic that I couldn't deal with it.
It was almost as if I had 2 personalities. Jawsh, the fun-loving guy who's just happy to be doing it. Then there was "Jaws". That guy never turned off.
I was always in tour mode. Even if we were just going out for dinner, I was in a hurry to get there and get back as if everything had to be run as efficiently as a finely tuned tour. Which is crazy. Why the fuck would my gf (now wife) wanna live her everyday life like she's on tour? She was just happy that I was home and we were hanging. I was pissed if I had to wait for more than 1 literal second cuz she didn't already have her house keys handy.
Needless to say, I needed to figure it out or I was gonna be intolerable to be around.
Back to it…
I found that the key to a successful transition for me is to spend a day or 2 in whatever city the tour ends. This is my time to shut it down in a big way. I sleep, shop, and vibe-hard while finishing up any loose ends of my work so I can be present when I get home. The blues would hit me the hardest when I'd finish the tour, then be on the first flight back home the following morning. I'd go home stressed from all the work I still had to do, tired from living like a carny, and not ready to be a part of a normal functioning society.
Now when I get home, I focus on natural health. After a series of acupuncture from my ND, I go to the chiropractor and get her to fix the damage that sleeping on a tour bus has done to my body.
It's crazy when you think about it… we sleep in a bunk bed, in a metal tube while barreling down the highway on treacherous roads in hazardous conditions. God, I love it.
Anyways… There are 2 versions of the blues – Physical and Mental – and they both hit equally hard in their own ways.
How I beat the Physical Blues
Coming off the road is a shock to the body. Big time. One minute I'm sweeping out my garage and dusting off my desk in my home office, the next minute I'm binging a new Netflix series and sleeping on the couch.
Here's how I adjust…
1. Adjust my sleep schedule
If you've just spent the last few months staying up till 3 am, getting up early, and doing the 16-18 hour days that tour demands, chances are you need some sleep. Coming home and getting into a pattern or routine is the key. If you need to sleep for 24 hours on the first day you go home, then by all means listen to your body. But if you find yourself up and ready to rock in the morning and unable to fall asleep at night, you're creating a monster.
If you're a napper, you have a gift. Do that. If smoking weed helps you wind down at night, then, by all means do that as well. I mentioned in "5 Ways to Stay Healthy on Tour", that I listen to meditation tapes and mellow playlists on Spotify. This helps me shut it down.
You have to rest when you can since you are likely heading out again soon.
2. Blow off Steam
It helps a lot if you're a part of a community at home. I go to a boxing gym for my exercise. This isn't your everyday boxercise class where you're between Sally and Jenny trying to get a better bum for the summer. This is an old school fight gym. Everybody spars and you have to earn your respect. It's the best. I cruise in (once I've had some sleep) and get back to training.
Boxing is therapeutic to me for multiple reasons. For starters, I'm a high strung, hyper person. I've always been a bit of a spaz and need high-intensity workouts where I go full speed until failure. It's important to me to be humbled by defeat.
Secondly, It's that there are immediate repercussions for my actions. I drop my hand, and instantly get punched in the face – or the coach's famous move – get smacked with a pool noodle. In a world where I'm constantly making decisions on behalf of someone else, I don't have the abrupt or barbaric consequences. If I fuck something up, chances are it just costs someone a lot of money, or I hear a bunch of complaining from my crew.
I guess now that I'm getting a little older and more fragile, I find myself going there a little less. Who knew getting punched in the face isn't good for you long term?
3. Keep Moving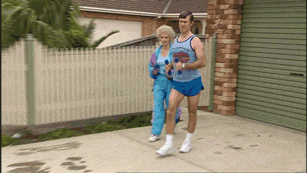 Nothing will fuel your funk like laying on the couch. Even if you blew off some steam like I mentioned above, that's not your ticket to spend the rest of the day horizontally. I highly recommend setting a reasonable goal of steps. If you just did 25k steps per day for the whole tour, you don't have to be going for high numbers. Simply take the dog for a walk, or heel-toe it to meet up with people.
Personally, I mall walk. I'm not talking about putting on sweats and speed walking through the mall in the morning with the 65+ crowd. When I need a break from monotony in the afternoon, I got to Starbucks and cruise the mall to get my steps from 4-5k up to 8-9k. I like this because you can do it regardless of the weather. And if you're just cruising, no one else has any idea what you're doing.
Here's a cool article from healthline.com about stats on steps/day.
How I beat the Mental Blues
Coming off the road can take its toll on you mentally. It's normal to feel like a crazy person, to feel bored, and – the biggest killer – to feel like you have no purpose in life.
One time I went and did a giant press day in NYC. Good Morning America, to being stuck inside traffic, to private suites for more interviews, just to cut across Manhattan midday to do another string of interviews and meetings. Shit was crazy, it was awesome.
But I made a rookie mistake. I flew home the following morning and drove straight to Northern Ontario cottage country to meet at my wife's family cottage. Although I thought it would be relaxing and nice to be there, I had just gone from chaos in Times Square to a cottage on water so calm that it looked like glass in the moonlight. I was ready to run around and scream while everyone else was starting to doze from day-drinking in the sun. The only thing louder than the crickets chirping was the sound of my heart beating out of my chest. That was a rough one…
Here's how I adjust:
1. Get Social
One of the first things I do once I get home is hanging out with some new faces (people that I wasn't just on tour with). Generally stopping by my local production company for a couple of hours is a great way to do so. I often have to go there anyway to make sure my cases make it home safe and ship other rentals back to where they belong. Generally, people ask about the tour and I'll tell some stupid or funny stories from the road. But more importantly, I get to just talk without having to be at work and I can leave whenever.
It takes me a little bit of time before I can hang with my friends and family. I'm usually stuck in carnival-mode and find that I'm distracted, not cool to hang with, and I have a hard time remembering conversations. Although this is normal, it's very important to be around your homies and loved ones.
2. Gain Perspective
It's very important to keep a perspective to beat the blues. More often than not, when road dogs come home from tour, all we can think about is what's next. Although it's understandable due to the nature of the business, it cant be the only way you think.
I think to myself everyday of how lucky I am that I get to live this life. Even how fortunate I am to have the basic necessities. I sleep in a bed, I drink clean water, I eat multiple meals everyday. Things could be (and have been) much worse.
I had a teacher tell us that you need to separate the "wants" and "needs" in your life. This is a great way to gain perspective. I want the world, but there are only select things that I actually need. I'm grateful for each of them.
3. Stay Mentally Busy
We all know that the recipe for disaster is to sit around wallowing in your sorrows. This is a good time to find a hobby that keeps you mentally sharp, positively distracted, and doesn't cause too much stress. Here are a couple of examples:
Dive into a deep story. Read something emotional that makes you feel like you understand the exact emotion that the characters are feeling. I'm less of a book-guy and more into watching movies and TV shows. But coming home and getting lost into a storyline is soul cleansing.
Take up a leisure sport. I did this recently with riding my pedal bike to get me through this quarantine. Since then, I started learning the ins and outs of how the gears work, ordering new parts, reading reviews and articles about bike life. It's been such a great waste of time and mental capacity.
Getting stuff done around the house is a great way to kill time and stay mentally busy. By week 2 of tour ending and quarantine starting, I reclaimed a bunch of barn wood for my dining room, replaced all the doors in my house, and shaved my head like I was Brittany in 2007. Jawsh – 2, Quarantine – 1.
Listen… I want you to know that I'm here for you. If you're feeling the burn by coming home from tour and need someone to talk to, hit us at c[email protected] or hit us on the social links below.
Want to read more articles on How To?
About Author